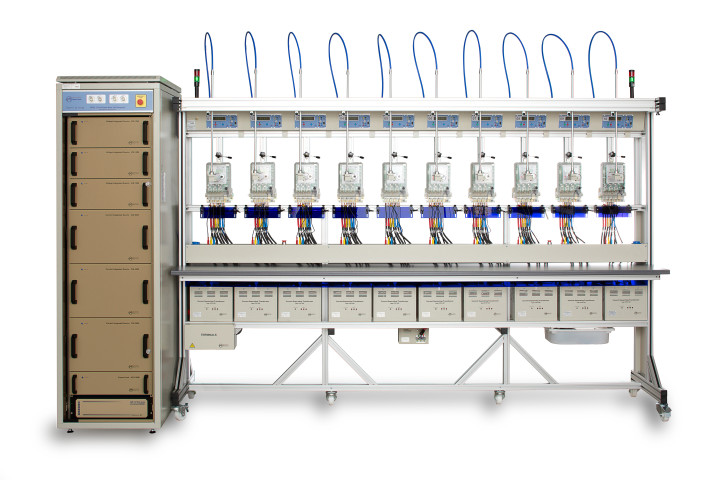 ASTeL 3.2 Three-Phase Meter Test Equipment
Fully automatic procedures for meter testing
Automatic meter adjustment routines
Accuracy classes of the reference standard: 0.01, 0.02, 0.04
Wide range of voltages up to 480 V and currents up to 240 A
Independent operation of voltage and current signals
Harmonics generation capability up to the 50th
Comprehensive range of safety features
Flexible and extensive number of testing positions
Simultaneous testing of meters with different constants
Feature-rich Windows® based control software
Special features and extensions available on request
ASTeL 3.2 meter test equipment is a fully automatic system that enables simultaneous, multi-position calibration and verification of three-phase electric energy meters. ASTeL 3.2 offers full compatibility with IEC 60736. Thanks to excellent parameters, superior functionality and outstanding flexibility, ASTeL 3.2 is an ideal solution for utility companies, energy meter manufacturers, governmental institutes of metrology, metrological laboratories, and other customers interested in electricity meters testing.
SUPPORTED METERS
ASTeL 3.2 is designed for testing a diverse range of electric energy meters. Those include but are not limited to:
active and reactive energy
electromechanical (also with impulse outputs) and electronic
with closed I-P links
multi-tariff, up to 16 tariffs
multifunctional and multi-quadrant with active/reactive energy/power  registers
prepaid meters
smart meters with data communication
reference standards, portable and stationary multifunction multimeters etc.
Support for customer's specific meters can be added upon request.
SUPPORTED TESTS
ASTeL 3.2 enables performing tests as required by international standards. Those include but are not limited to:
basic error (accuracy test)
starting current
no-load run
testing energy registers (dial test) and maximum demand indicator
constant test
checking the maximum demand registers (electromechanical or electronic)
checking the pulse outputs
pre-heating
testing the influence of frequency, harmonic distortion, voltage, current and other parameters on meter under test error
Customer's specific tests can be added upon request.
GENERAL COMPOSITION
ASTeL 3.2 is a modular construction. Major parts of the system include:
POWER SOURCE
Three phase power sources with different output powers and different harmonics ability are available. Read more
REFERENCE STANDARD
Three phase reference standards with accuracy 0.04, 0.02 and 0.01 are available. Read more
SUSPENSION RACK
Three phase suspension racks with different number of test positions, different test positions arrangement, manual or pneumatic meter clamping, optional IP separating transformers and a vast range of accessories and options are available. Read more
SOFTWARE
Windows® base operating software with wizards, rich libraries, automatic meter adjustment routines, reporting and scripting is available in many languages. Customer's specific features can be added upon request. Read more
HARMONICS ABILITY
Standard versions of the ASTeL 3.2 meter test equipment are able to generate harmonics up to the 21st order.  Enhanced harmonics versions marked with H are able to generate harmonics up to the 50th order.
ON ORDER SOLUTIONS
In addition to highly customizable ASTeL 3.2 meter test equipment, fully customized, made on order meter test equipment is available.
ASTeL model
3.24(H) (1)
3.22(H) (1)
3.21(H) (1)
Number of phases
Three phase
Accuracy
@ PF=1
±0.02%
±0.01%
±0.005%
@ PF≥0.5
±0.04%
±0.02%
±0.01%
Power Source
Type
PS3(H) (1)
Voltage source
400VA, 1200VA, 2600VA
Operating voltage range
3 x 30 … 350 (480)V (Phase-Neutral) (2)
Current source
600VA, 1600VA, 2400VA, 3000VA, 3600VA
Operating current range
3 x 1mA … 120 (240)A (2)
Frequency
40 … 70Hz (3)
Std. harmonics version
up to the 21st , user programmable
H harmonics version
up to the 50th , user programmable (4)
Reference standard
RX-30
RX-31
RX-33
Suspension rack
Type
SR-3
Number of positions
1 … 60 (as per customer requirements)
IP separation
Current separating transformer CTS
Software
AsTest software for Windows®
Other accessories
Optical port reader OPTO, Hand-held terminal HHT
(1) Notation (H) means that optional H version is available, e.g. ASTeL 3.24(H) means two versions are available ASTeL 3.24 and ASTeL 3.24H.
(2) Other values are available upon request.
(3) Operating range. Specified range from 45 to 65 Hz.
(4) Fulfills Chinese standard JJG 597-2005.
Product card
English
PDF