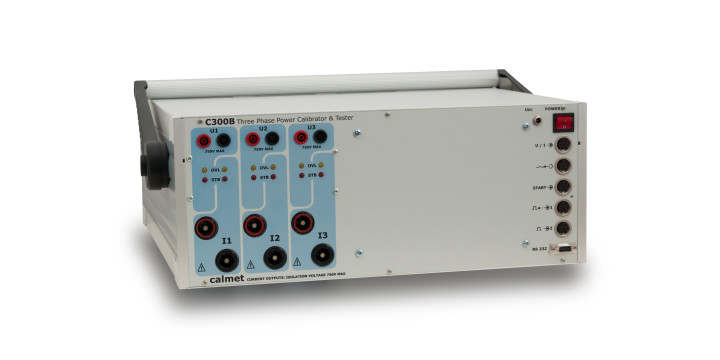 C300B Three-Phase Power Calibrator And Tester
Three phase voltage source up to 560V
Three phase current source up to 120A and single phase up to 360A
Voltage and current harmonics programming up to the 64th
Power quality parameters simulation
Impulse input for electricity meters testing
Start / stop inputs for protective relay testing
AC measurement input for transformers an clamps testing
DC measurement input for transducer testing
RS232C interface and personal computer software Calpro 300
The C300B three-phase power calibrator and tester is used for the adjusting, checking and verification of measuring instruments such as; electricity meters, frequency, voltage and current protective relays, current transformers and clamps, active and reactive power meters, phase meters, frequency meters, ammeters, voltmeters, transducers, monitoring systems and power quality analyzers.
OPERATIONAL HIGHLIGHTS
The C300B is a single/three phase source of AC current and voltage with an accuracy class of 0.02 or 0.05, and programmable values for harmonics. It generates voltages up to 560V in sub-ranges 70V, 140V, 280V, and 560V. Current is available up to 120A in sub-ranges 0.5A, 6A, 20A, and 120A. Frequency ranges from 40Hz to 500Hz, and phase angle from 0 to 360°. In a single phase connection it can generate current up to 360A.
The C300B can automatically obtain the error characteristics for measurement values and time characteristics of protection relays electricity meters, standard S0 impulse input is used with the possibility of a photo scanning head connection. When testing  transducers, current transformers and clamps, a DC input with ranges 10V/20mA and an AC input with ranges 10V/100mA/5A is used. For protective relay testing, three timers with start/stop inputs and resolution 1ms are utilized. Two additional binary outputs are used for operate/standby calibrator state signaling.
The calibrator is controlled by means of a personal computer running a Windows operating system with Calpro 300 software installed.
Specifications for sinusoidal signals
Parameter
Range
Settings span
Resolution
Uncertainty (1)
Maximum load
class 0.02
class 0.05
Voltage U
70V
0.5000… 70.0000V
0.0001V
±0.02% (2)(4)
±0.05% (2)(4)
560mA @ 70V
140V
1.000…140.000V
0.001V
280mA @ 140V
280V
2.000…280.000V
0.001V
140mA @ 280V
560V
5.000…560.000V
0.001V
70mA @ 560V
Voltage short term stability [1h]
±0.005% (2)
±0.010% (2)
Voltage long term stability [1year]
±0.01% (2)
±0.02% (2)
Voltage temperature drift per 1°C
±0.0005 % (2)
±0.0010% (2)
Current I
0.5A
0.001000...0.500000A
0.000001A
±0.02% (2)(5)
±0.05% (2)(5)
17V @ 0.5A
6A
0.05000...6.00000A
0.00001A
8.5V @ 6A
20A
0.2000...20.0000A
0.0001A
3.3V @ 20A
120A
1.000...120.000A
0.001A
0.95V @ 60A (7)
0.70V @ 120A (7)
Current short term stability [1h]
±0.005% (2)
±0.010% (2)
Current long term stability [1year]
±0.01% (2)
±0.02% (2)
Current temperature drift per 1 °C
±0.0005 % (2)
±0.0010% (2)
Frequency f
40.000...500.000Hz
0.001Hz
±0.005%
Phase shift ϕ
0.00...±360.00°
0.01°
±0.05° (2)
±0.05° (2)
Active power P
0...3x67200.0W
0.00001 … 1W
±0.02% (2)(3)
±0.02% (2)(3)
Reactive power Q
0...3x67200.0var
0.00001 … 1var
±0.02% (2)(3)
±0.02% (2)(3)
Apparent power S
0...3x67200.0VA
0.00001 … 1VA
±0.02% (2)
±0.02% (2)
Power short term stability [1h]
±0.005% (2)(8)
±0.010% (2)(8)
Power long term stability [1year]
±0.01% (2)(8)
±0.02% (2)(8)
Power temperature drift per 1°C
±0.0005% (2)
±0.0010% (2)
Time (6)
1...36000s
1s
±0.01% *0.001s
Energy
calculated from of power and time settings
±0.02% (2)(3)
±0.05% (2)(3)
(1) absolute extended uncertainty under confidence level of 95% covers reference uncertainty of standards, stability in 12 months, influence quantities (ambient temperature in range +20…+26°C, humidity and power supply voltage according to the table 2.3, load acc. to table 2.1, frequency in range 45…6 5Hz) and nonlinearity. For frequency band below 45Hz and above 65Hz – linear rise up typically to double value for frequency 40Hz and 500Hz
(2) of setting value, for settings from 10% of current range and 30% of voltage range
(3) uncertainty of power P(Q) under cosφ(sinφ)=1, for cosφ(sinφ)≠1 linear rise up to 0.15% (class 0.02) or 0.30% (class 0.05) for cosφ(sinφ)=0.5
(4) for voltage below 30% of range uncertainty 0.006% of range (class 0.02) or 0.015% of range (class 0.05)
(5) for current below 10% of range uncertainty 0.002% of range (class 0.02) or 0.005% of range (class 0.05)
(6) for energy dosage
(7) 0.85V @ 60A and 0.50V @ 120A using the AKD300 current cables length 1m
(8) stability of power S and P(Q) under cosφ(sinφ)=1, for cosφ(sinφ)≠1 linear rise up to 0.04% for cosφ(sinφ)=0.5
Product card
English
PDF