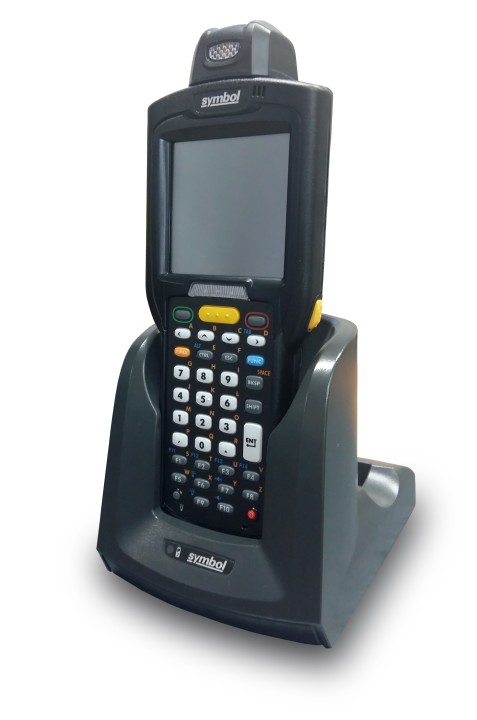 HHT Hand-Held Terminal
Portable, wireless
Optional laser barcode reader
Docking port for communication
Sharp, easy-to-read display
Energy-saving
Humidity resistant
Use a single terminal for several systems
The HHT hand-held terminal facilitates data collection from meters being tested on MeterTest's ASTeL system. The data can be read from a meter and entered into the terminal's memory using an integrated keyboard or a laser barcode reader. The docking port provides a connection to the computer as well as fast, convenient data transmission. Use a single terminal for servicing a number of meter test systems equipped with docking ports.
OPERATIONAL HIGHLIGHTS
The HHT hand-held terminal is a portable computer, operating together with the Windows® CE operating system. A high resolution and touch sensitive backlit LCD display makes unit operation easy.
Fast and convenient data entry is facilitated by a humidity-resistant keyboard with 28 or 38 keys, or an alphanumeric keyboard with 48 keys.
The optional laser barcode reader significantly accelerates data collection operations, improving accuracy and efficiency. The rotating laser scanner head can be easily adjusted for left-handed and right-handed people.
Display
3.0 in. color (TFT) (320 x 320) touch display with backlighting
Codes
UPC E, UPC A, MSI, EAN 8, 2 FROM 5 INTERLEAVED, EAN 13, CODABAR, CODE 39, D2OF5, I2OF5, CODE 11, CODE 93, CODE 128, PDF417, TRIOPTIC 39, MICROPDF, MACROPDF, MAXICODE, DATAMATRIX, QRCODE, MACROMICROPDF, RSS-14, RSS LIMITED, RSS EXPANDED, POINTER, IMAGE, SIGNATURE, WEBCODE, CUECODE, COMPOSITE_AB, COMPOSITE_C, TLC39, USPOSTNET, USPLANET, UKPOSTAL, JAPPOSTAL, AUSPOSTAL, DUTCHPOSTAL, CANPOSTAL, CHINESE_2OF5
Range on 100% UPCA at 30 ft./candles
Near: 2.5in./63.5mm
Far: 14.2in./360.7mm
Sensor Resolution
752 x 480 pixels
Field of View
Horizontal: 38°; Vertical: 25°
Skew Tolerance
±60°
Pitch Tolerance
±60°
Roll Tolerance
360°
Product card
English
PDF